Airports in Bhutan
Bhutan Airport: Paro Airport
Bhutan Airport: Gelephu Airport
Bhutan Airport: Bathpalathang Airport
Bhutan Airport: Yongphulla Airport
Getting to Bhutan may not be as difficult as you think.
Bhutan may not get many tourists every year due to their unique tourism policy, but it has an international airport - and three other Bhutan airports!
For information on flights to Bhutan head here.
---
Bhutan Airport: Paro
Paro Airport in Bhutan is often labelled as "the world's most dangerous flight landing".
Depending on if you're a thrill-seeker and nature lover, or rather keep two feet on the ground, it could be interpreted this way.
But in reality, that's just catchy click-bait.
But if you're coming to Bhutan, you're most probably in the former category. Paro Airport is located in. a valley with mountains surrounding it on every corner - some as high as 5,500 m (18,000 ft).
Landing at the Bhutan airport in Paro will probably be one of the most incredible landings in your life, and one of the most beautiful experiences - if you are lucky and get a clear day.
Paro is Bhutan's only international airport.
There are land crossings in Bhutan, but you are most likely to fly in through Paro Airport.
It's a very small airport with only one runway. Located not far from the town at only 6km away, it's also very convenient.
Paro Airport is located just over 50km away from Thimphu.
Paro Airport was built in 1968. It was the only airport in Bhutan until 2011.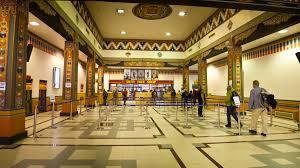 ---
Bhutan Airport: Gelephu Airport
The Gelephu Bhutan Airport is located approx. 3km away from the town of Gelephu. This is in the Sarpang District of Bhutan.
This Bhutan Airport was constructed in 20087 but began regular use in 2017.
Originally, this Bhutan Airport was meant to be another international airport. Unfortunately, due to lack of finance and logistics, it is still only a domestic airport.
The Gelephu Bhutan Airport is only served by one airline - Druk Air.
Flights from here fly between Paro and Jakar.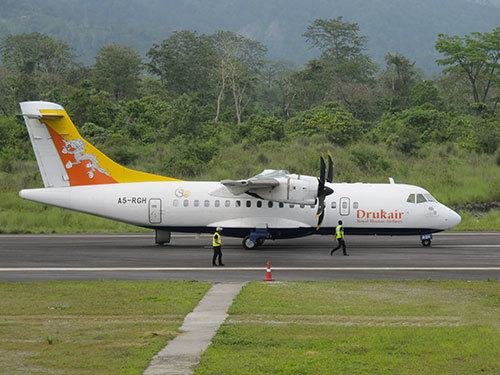 IMAGE: https://kuenselonline.com/domestic-flight-to-gelephu-resumes-2/
---
Bhutan Airport: Bathpalathang Airport
This Bhutan Airport serves domestic flights only.
It is located in Jakar, Bumthang District of Bhutan.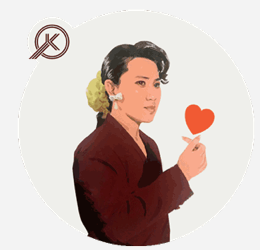 The project to build this airport began in 2008 and was part of the Bhutanese government's 10th 5 year plan. The opening was delayed from 2010.
The airport started operations in 2011 but suspended operations in 2012 due to airlines not making profits.
Since then, is has resumed operations and flies both to Paro and Thimphu.
The two flight operators at this Bhutan Airport are Druk Air and Bhutan Airlines.
Druk Air: Thimphu/Paro

Bhutan Airlines: Paro/Gelephu

IMAGE: http://www.bbs.bt/news/?p=86414
---
Bhutan Airport: Yongphulla Airport
Yongphulla Airport is located near Trashigang town in Trashigang District in Bhutan.
It is another of Bhutan's domestic airports.
Originally, this Bhutan airport was constructed by the Indian Army in the 1960s.
However, due to it being at a high altitude (2000m) and surrounded by mountains, it was largely unused.
It was then renovated in the early 2000s to try to bring it back to life, and by 2011 it was eventually completed and inaugurated.
Only 6 months later, it suspended flights as the airline carried Druk Air raised concerns over safety.
Its runway was resurfaced and was opened again in 2013, but this Bhutan Airport did not have much luck as it closed shortly after in October 2013 that it wouldn't resume operations until 2015 stating the lack of fire service.
In 2017, Prime Minister Dash Tshering Tobgay re-opened this Bhutan Airport after it had a full upgrade of the runway to international standards.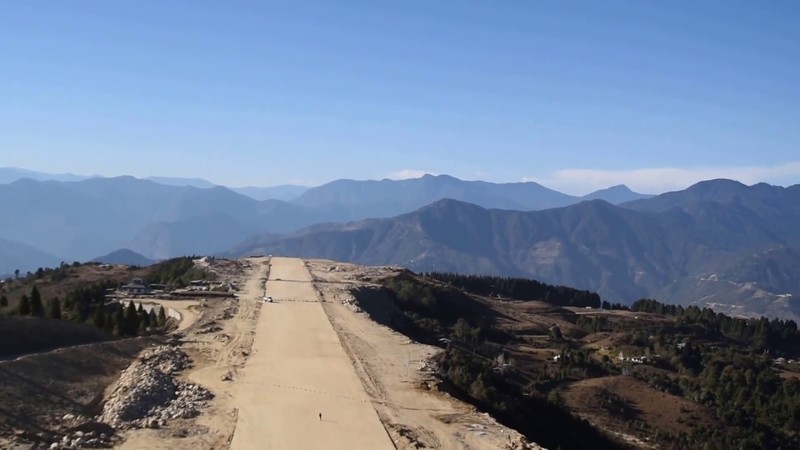 ---
---
North Korea Travel Guide PDF | Sign up to the mailing list | About Koryo Tours