Bhutan Flag
Flags of the World
History of the Bhutan Flag
Symbolism of the Bhutan Flag
Bhutan Flag Dragon
Bhutan is a Buddhist country located next to India and Nepal.
The Bhutan flag is one of the more vibrant and beautiful flags of the world out there, using contrasting orange and yellow that meet in the middle at a detailed white dragon.
---
History of the Bhutan Flag
The Bhutan flag has been in use since approx 1965.
The official date, however, is unknown. Some suggest that it may have been upon Bhutan's introduction to the United Nations.
Before this, Bhutan was a private and secretive country that few knew much about. Only the UK and India had relations with the country pre-dating this.
Due to the isolation and geographical location, Bhutan had little need for a flag before this time.
Originally, the white on the Bhutan flag was green. This was changed to white which symbolises purity.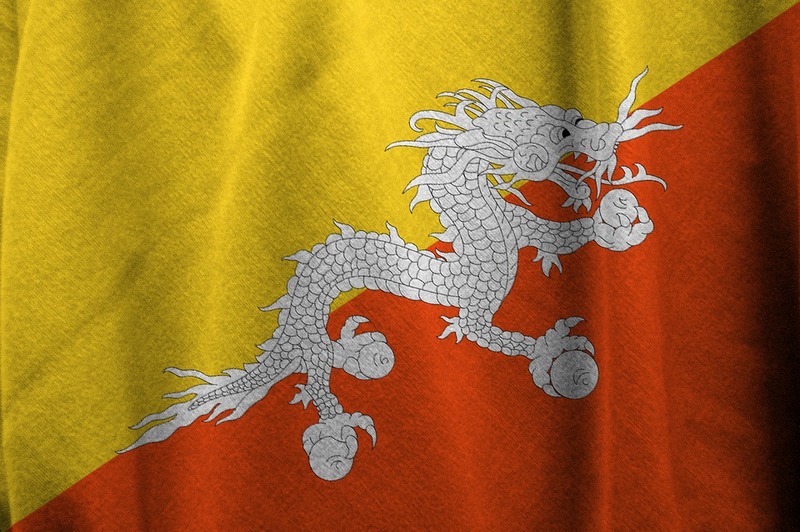 ---
Symbolism of the Bhutan Flag
Yellow - Authority of the King

Orange - Drukpa Monasteries

White - Purity

Dragon - Thunder Dragon
The official colour of the Bhutan government is yellow. This is where the yellow from the Bhutan flag comes from.
It symbolises the power and authority of the King who is the ruling power in Bhutan.
The orange is associated with the different Buddhist groups in Bhutan and enhances the importance of the Buddhist influence in Bhutan.
---
Bhutan Flag Dragon
Traditionally, Bhutan is known as the "Land of the thunder dragons" in the native language Druk. The sound of thunder is believed to be the sound of dragons in the mountain.
However, it could also be that the dragon design was influenced by China.
The dragon is pictured grasping jewels in its claws, standing for national wealth and for perfection.
The snarling feature of the dragon depicts the male and female deities protecting Bhutan.
The dragon, originally green, is now white.
This represents the purity and loyalty of the various ethnic groups in Bhutan throughout the country.
---
---