King of Bhutan & Queen of Bhutan
Bhutanese Monarchy History
King of Bhutan
Queen of Bhutan
Bhutan has had a monarchy for over 100 years.
The current King and Queen of Bhutan are held highly in Bhutan, with their marriage being described as a very loving one.
The King and Queen of Bhutan spend a lot of their time outside on Royal Visits meeting with local Bhutanese people, interacting with students and public servants as much as possible.
They have been together on many visits abroad since their marriage, including to Singapore, Japan, and the UK.
Let's take a look at the King of Bhutan and Queen of Bhutan, and understand the history of the Bhutan Monarchy.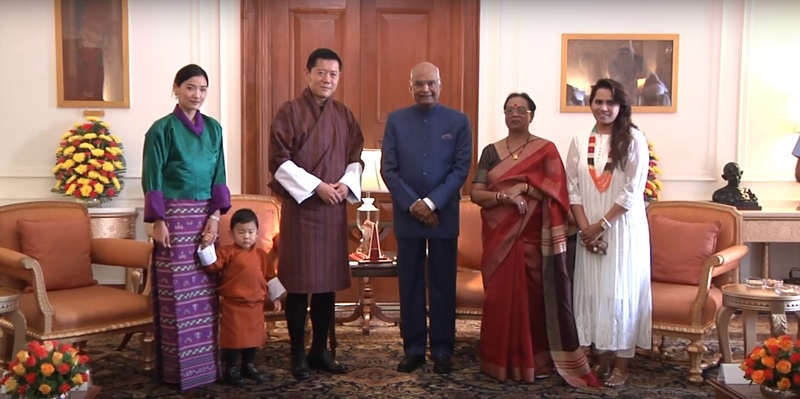 ---
Bhutanese Monarchy History
Mid-17th Century
The country of Bhutan was founded in the mid-17th century. In 1651 it began to be run as a duel system government.
Control was split between the government and the Drug Desi, a secular leader, and the Je Khenpo, a religious leader.
1907
Since 1907 when the unified house of Wangchuck rose, the Druk Gyalpo has been the head of state of Bhutan.
Druk Gylapo literally means "Dragon King" in the Bhutanese language.
Bhutan today still works under a duel system government.
The Druk Gyalpo is head of state, and the Prime Minister of Bhutan acts as executive and head of government in a parliamentary democracy.
List of Bhutan King's since 1907
Ugyen

Lifespan: 1862 - 1926

Jigme

Lifespan: 1095 -1952

Jigme Dorji

Lifespan: 1929 - 1972

Jigme Singye

Lifespan: 1955 - Present

Jigme Khesar Namgyel

Lifespan: 1980 - Present
---
King of Bhutan
King of Bhutan - Jigme Khesar Namgyel; འཇིགས་མེད་གེ་སར་རྣམ་རྒྱལ་དབང་ཕྱུག
The current King of Bhutan became the monarch on 9th December 2006 after the previous King of Bhutan abdicated the throne.
There was an official public coronation ceremony in November 2008. This year marked the 100 years of monarchy in Bhutan.
He is the eldest son of the fourth King of Bhutan.
He has a younger sister and brother, as well as four half-sisters and three half-brothers.
He studied at Oxford university in the United Kingdom where he completed the Foreign Service Programme and studied International Relations.
Polygamy is legal in Bhutan and the previous King of Bhutan had many wives.
Despite this, the current King of Bhutan decided not to go down his father's footsteps as he vowed that he would never marry another woman.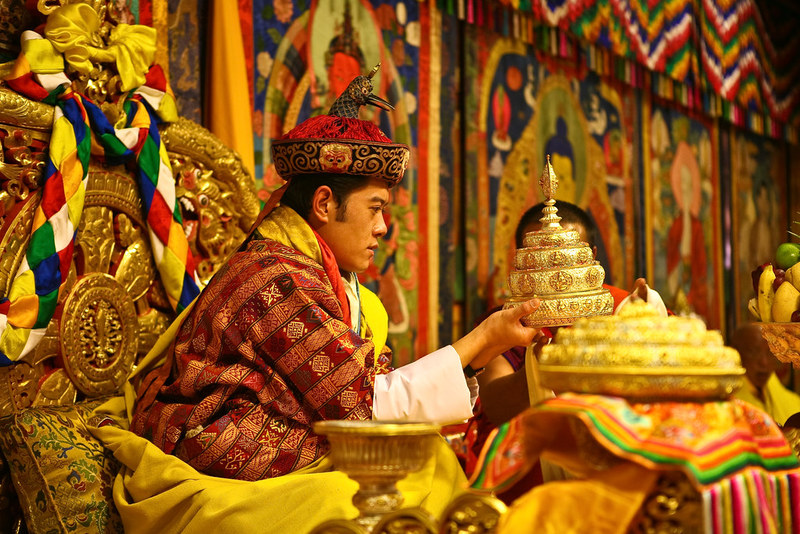 ---
Queen of Bhutan
Queen of Bhutan - Jetsun Pema; རྗེ་བཙུན་པདྨ་
The Queen of Bhutan is currently the world's youngest living Queen. She was born in June 1990.
Being the daughter of a pilot, she is considered to come from a modest background.
However, it is said that her family have long-term links with the royals, and she had a good upbringing attending school in both India and the UK.
She can speak Hindi and English, as well as her native language of Dzongkha.
Jetsun Pema's marriage with the King of Bhutan is likened to that of Prince William and Princess Kate of the United Kingdom.
The Queen of Bhutan married her husband at the age of 21 in October 2011. The King of Bhutan at this time was 31.
Over 50,000 Bhutanese people attended this wedding which was held in Bhutan's capital city, Thimphu.
After 4 years of marriage, the King and Queen of Bhutan announced the pregnancy of their first child.
Their first child was a boy born on 5th February 2016 with the King of Bhutan present.
His name 'Jigme Namgyel Wangchuck' was announced in April 2016.
Before becoming the Queen of Bhutan, Jetsun Pema studied at Regent's University in London. There, she studied international relations, psychology and art history.
In her free time, the Queen of Bhutan enjoys art - and also paints herself.
She is also well-known for her charity work for multiple organisations such as the Bhutan Red Cross Society, Ability Bhutan Society, and Bhutan Kidney Association. She is also an advocate on environmental issues.
In December 2019 during Bhutan's National Day celebrations, the King and Queen of Bhutan announced the Queen of Bhutan's pregnancy with her second child.
The second child is due in Spring 2020.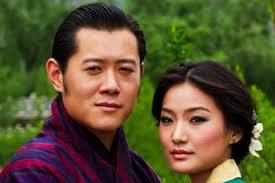 IMAGE: https://www.straitstimes.com/asia/south-asia/bhutans-queen-pregnant-with-first-child
---
---
Koryo Tours International Tours | Sign up to the mailing list | About Koryo Tours