If you've come to the Ryonggang Hot Spa Resort, one of North Korea's best known hot spa hotels, expecting a hot spa in the sense of a pampering massage, hot stone therapy, reiki and champagne, then you might be disappointed.
If you've come to the Ryonggang Hot Spa Resort with an open mind and the expectation to... experience something different, you certainly won't be disappointed.
The Ryonggang Hot Spa Resort
The Ryonggang Hot Spa Resort in Nampo, North Korea, is one of the oldest hot spa hotels in North Korea. It is situated on North Korea's west coast.
The 'hot spa' name certainly doesn't refer to any relaxing massages and pampering on offer, but rather comes from the local water - said to be rich in bromine and radon.
Legend has it that a 15th-century farmer noticed an injured bird soaking its wounds in the warm spa water, and over the years the area has become popular not just as a place of convalescence, but also conviviality; this hotel was once a countryside retreat for senior Party figures of old- oh, to have been a fly on the wall in those days….
Inside the Ryonggang Hot Spa Resort
In the 27 original chalets, there's an air of faded glamour meets grandparents spare bedroom. Think doilies, dusty cut glass decanter sets, china teacups and threadbare carpet.
Each room has a private bath you can fill with the piping hot spa water; that said, all those minerals give it a rather alarming brown hue, and you are sagely warned not to stay in the water too long (although it's never made clear quite what would happen if you did).
Think doilies, dusty cut glass decanter sets, china teacups and threadbare carpet.
If the old chalets are a little too 'real' for your liking- worry not, other options are now available. After years of sepia-tinged decline, there has been a flurry of recent development and a brand new building has opened its doors, complete with modern hotel rooms facing onto a central indoor pool and leisure area. It all feels a little incongruous compared to the old chalets, but then again you're a foreigner wandering around a walled compound in the middle of apple orchards on the east coast of North Korea, so these things are relative.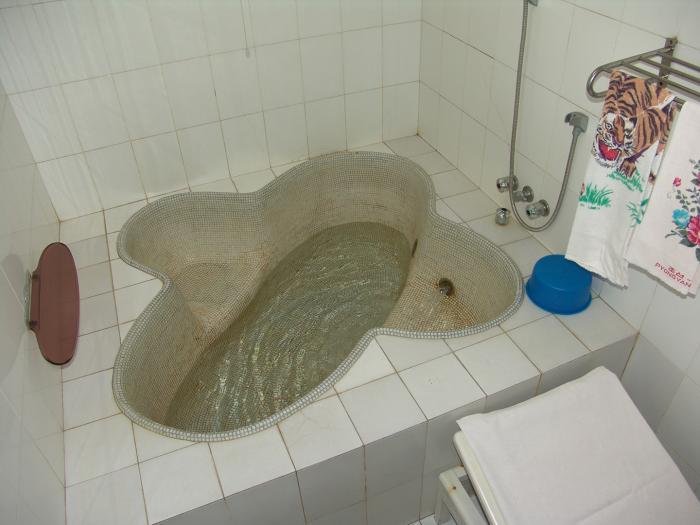 At the Ryonggang Hot Spa Resort
So what is there to do out here once the gates close for the evening and you've had your bromine bath and/or dip in the pool? Surprisingly, quite a lot. A central service building houses the reception area, bar/ restaurant, and halls where you can play table tennis, badminton or billiards into the early hours. Undeniably enjoyable as that is, it's standard, make-your-own-fun rural North Korean hotel stuff.
A far more memorable pastime here is to enquire about the availability of the famous West Sea clam barbecue (technically not entirely unique as an east coast version is also popular over in Hamhung- but let's not spark a turf war here), which will be cooked invariably by your bus driver, his culinary expertise perhaps a revelation to the group at this stage. Illuminated by the headlights, local clams are carefully arranged in concentric circles on a concrete table outside one of the chalets.
Once he is satisfied with the layout, he syphons some fuel from the bus (really), lights it, and pours it gently and calmly over them.
Some prospective diners wonder what they have let themselves in for at this stage, but that's where the nerve-settling bottles of neat soju come in. For those who brave it and don't mind the high notes of paraffin with their dinner, it tends to be an unforgettable experience (depending upon quantities of soju imbibed, of course).
Relax at the Ryonggang Hot Spa Resort
Far away from the capital, this is also a place where your Korean guides like to let their hair down.
Everyone dines together, props up the bar together- and if public humiliation is your thing, you might challenge one of them to a game of table tennis. The Ryonggang Hot Spa hotel may be past its glory days, and whether you emerge feeling ten years younger from the healing waters, or feeling ten years older from the local soju, it's always an enjoyable stopover in Nampo.
---