Introduction
First Floor
1.5th Floor
2nd Floor
3rd Floor
4th Floor
5th Floor
6th Floor
7th floor
Standard Opening Hours
Established in 1921, the Mongolian State Department Store, as the name suggests, used to be a government-run affair. Although now it is quite the opposite.
For many locals, the Mongolian State Department Store is known as ikh delguur (big shop)as that's what it is!
Mongolian citizens see the store as a local institution which isn't too far from the mark for tourists either. You'll see our shopping guide bellow but its seven floors of everything you'll need all under one roof.
Most former communist countries had one and UB is no different, the State Department Store in the capital opened in 1921 based on the concept of GUM in Moscow.
People did question the need for such capitalist style stores within communist countries; however, it was believed that they would help to rebuild private enterprise, following socialist values.
The State department store in UB is at the heart of the city only 10 minutes walk from Sukhbaatar square.
From the outside, it still holds some of its blocky Soviet design although masked a little now by its big TV and fancy LED lights. Once inside the visitor is met with a plethora of stalls and shops radiating around a central open core.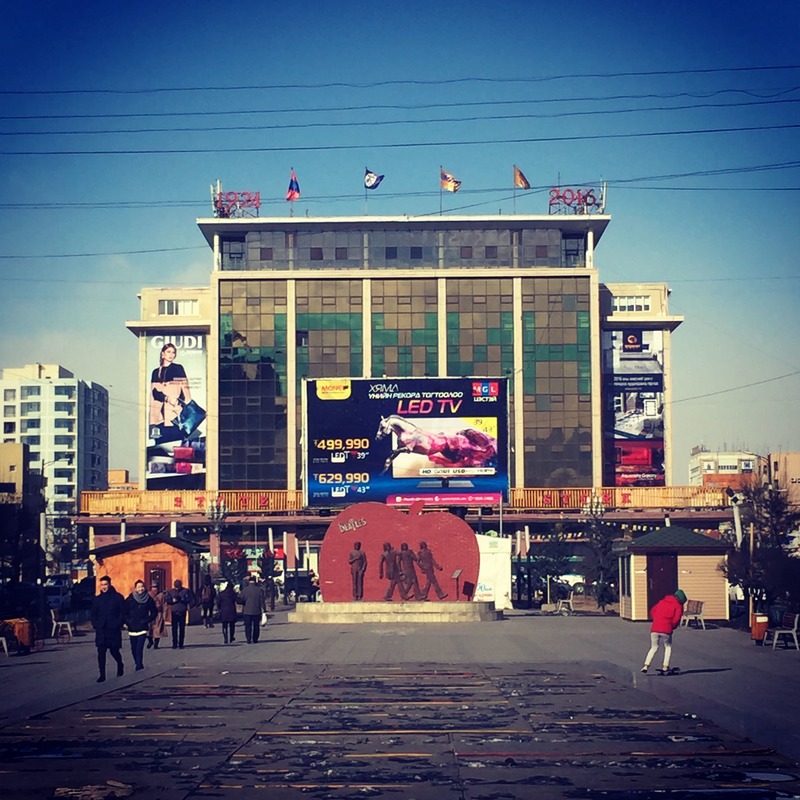 ---
Mongolian State Department Store Shopping Guide
The State department store is owned by Nomin holding, if your new to Mongolia don't worry you'll see more of them.
Nomin is like the Mongolian Wallmart, and they have a store in almost all Mongolian cities and many throughout Ulaanbaatar.
When heading through the store, you can use the escalators through the central core or the stairs located either side of the building.
1ST FLOOR: (main entrance from the South).
NOMIN SUPERMARKET
Offering all you need for you to tour into the wilds or a journey on the Transsiberian. Before entering the supermarket, bags must be, stored in the lockers to the right of the entrance.
INFORMATION CENTER
Not to bad although expect information without a smile, but you'll get what you need.
NOMIN CARD/FOREIGN EXCHANGE
Recently moved to the base of the east stairwell, the rates are better then you would get at the airport although the banks will offer slightly better.
APPLE SHOWROOM
Only buy if you need to as Mongolia is an expensive country for apple products. Useful if you need help or advice on an existing item, however.
COSMETICS
There are plenty of these stalls on the 1st floor mainly aimed at the local market but useful if your running low (expensive).
JEWELRY & ACCESSORIES
primarily aimed at locals, although there are some Mongolian designs amongst the selections. If you're after something in a Mongolian style, do not buy until you have checked out the 6th floor.
FLOWER & GIFT SHOP
A relatively large affair do pre-order if you need flowers for women's day, on the day will be chaotic.
WATCHES & SUNGLASSES
Another overpriced option, although handy if you need it, do take care with some of the brands as they will be cheaper options from China.
GLASSES & OPTICAL SERVICE
Broken glasses? Then this is the place to come; if this guy cant repair your glasses, then you'll need the opticians and shops next to this stall.
PHARMACY
Not the best-stocked pharmacy in the city there are far better options but if your nearby and in need of a fix then it is a convenient option.
COFFEE SHOP / CAFFE BENE - SWEET LAND
Your shopping and in need of a break who doesn't like a convenient coffee shop as part of that retail therapy?
LAUNDRY SERVICE
Most hotels these days in UB have this option, although some of the smaller homestays or hostels may not so here's your chance to have your weeks worth of camp wear cleaned and buffed.
ATM
ATMs located around the stairwells on either side of the store; these machines accept western issued cards. Foreign credit cards are generally accepted as payment throughout most of the store.
WATCHES - WATCHES REPAIRING SERVICE
This small stall is located on the eastern side of the store, fast and efficient; the prices are not to bad.
SHOE REAPIR· KEY SERVICE
Situated in the east stairwell, this shoe repair shop is legendary if you have boots that you can't throw away but require repairs these are your guys.
PIZZA HUT
A newer addition but still essential for some, this small booth offers pizza by the slice as well as the whole thing.
1.5TH FLOOR: (located between floor 1 and 2).
OFFICE OF NOMIN SUPERMARKET
Typically busy with locals trying to get their bonus cards fixed! Bonus cards here are a big deal registered to the individual; newer cards even use fingerprint technology.
TOURIST INFORMATION CENTER
I find the service here not that good as staff are typically trying to sale tours and other services.
"MODERN" HAIR & BEAUTY SALON
I have used this a few times, a men's haircut costs typically around 7 USD with excellent results.
2ND FLOOR
WOMEN'S BUSINESS STYLE, UNDERWEAR – SOCKS & PANTYHOSE, MANGO BRAND, NEXT BRAND, DE MODA MONGOLIAN BRAND, CALLIOPE-WOMAN FASHION BRAND, ACCESSORIES
The store offers a real mix of brands; the western stores are more expensive then you would pay at home. However, they can be handy if you arrive in Mongolia, realizing you have forgotten anything.
CASHMERE
Mongolia is the home of Cashmere, and it makes an excellent souvenir to take home. The stores in the state department store do charge a premium, although the quality is pretty much guaranteed.
CASHMERE CLEANING SERVICE
Pricey but the place to take those cashmere sweaters.
3RD FLOOR
MEN'S BUSINESS STYLE, MEN'S FASHION, TRAVEL CLOTHES, TRAVELING PRODUCTS, SWIMMING, MENs AND WOMEN'S SHOES, HATS - SCARF – GLOVE, BAGS & LUGGAGE, TAILOR SERVICE
As above great for filling those forgotten travel needs but do expect to pay more.
4TH FLOOR
ERDENET CARPET
If you have some luggage space or money for shipping a Mongolian carpet makes a great gift to take home. Mongolian rugs are woollen so do not expect a silk masterpiece.
CRYSTAL, GLASS & CERAMIC WARE
Mostly imported goods, although there may be some Mongolian made items amongst the wares.
STEEL & PLASTICWARE, LIGHTING - LIGHTING SHADE
If you're in Mongolia long term and planning on setting up home, then these stalls offer excellent quality at a price.
BED SHEETS - KITCHEN TEXTILES
Primarily aimed at longer-term residents, there are also Mongolian made wares which make great souvenirs such as camel hair filled sleeping bags and lambswool pillows amongst other items.
BABY CARE PRODUCTS, KID'S CLOTHES & SHOES, TOYS
If you're travelling with kids and need quality products, then this area is for you.
5TH FLOOR
HOUSE ELECTRICAL APPLIANCE, NOMIN INSURANCE - NOMIN UNION SCC, COMPUTERS - COMMUNICATION ITEMS, SPORTS PRODUCTS
Make sporting goods a destination if you're looking for gifts for children in the countryside.
ORANGE RECORDS - CD DVD
Perfect if you're looking for some of that traditional throat singing or tunes played on the horse head fiddle.
MUSIC INSTRUMENTS AND ACCESSORIES
Great for the purchase of some traditional Mongolian instruments as well as quite a few western options as well.
MOBILE OPERATORS (MOBICOM, SKYTEL, G-MOBILE & UNITEL), CELLPHONE ACCESSORIES
If you require a local sim card, these stalls will help with that as well as any other phone needs. A sim for Mongolia is relatively inexpensive, including a fair amount of data.
CINEMA
The cinema here does offer western movies; however, better more extensive options are available in Ulaanbaatar city.
6TH FLOOR
MAJESTIC BOOKSTORE & STATIONARY
Western titles and guide books are challenging to find, but they are there so stick with it, and you'll likely find what you need.
TRADITIONAL SOUVENIRS – ANTIQUES, TRADITIONAL COSTUMES, LEATHER AND FELT, FUR PRODUCTS, NATIONAL CASHMERE PRODUCTS, MAPS - FLAGS & PAINTINGS
One of those go-to areas for most tourists during the peak travel times it can get quite hectic here. Of course, prices are a lot higher here, as mentioned several times the quality is good, and many people enjoy the ease of shopping under one roof.
CALLIGRAPHY - DEDICATION SERVICE
For those who wish to see their names written in traditional Mongolian script, this is the place.
HOME DECORATION, PLATES & MEDALS
More for those UB residences but one never knows when you may require a medal.
7TH FLOOR
EMPIRE FOOD COURT
Not the best option for food in Ulaanbaatar but it if you've overshopped and can't be bothered to venture too far then it's an option.
Asian and Mongolian cuisine are the only real choices from various stands. Menus on the walls behind each booth only in Mongolian, but the fancy pictures give a good idea of what to expect.
Meals are pretty basic, but if you can snag a window seat at sunset, then the view will make up for this.
---
Standard Opening Hours (these will vary during holidays)
Sunday: 9am - 9:30pm
Monday: 9am - 10pm
Tuesday: 9am - 10pm
Wednesday: 9am - 10pm
Thursday: 9am - 10pm
Friday: 9am - 10pm
Saturday: 9am - 10pm
Address
Peace Avenue-23,
3rd khoroo,
Chingeltei District,
Ulaanbaatar Mongolia
---
---