Talnakh
Introduction
What's the weather like?
How do I get there?
What to do in Talnakh
Accommodation
Introduction
Along with the neighboring town of Dudinka and city of Norilsk the town of Talnakh makes up the third part of the troika of main settlements in this remote part of Russia.
The whole Norilsk area sees almost no tourists but even then Talnakh is the part that gets a bit overlooked.
Coming to Norilsk without sending time in Talnakh would be a mistake.
It has its charms, is wonderfully photogenic, and is well worth a day trip or overnight excursion
Although it is now officially a suburb of Norilsk Talnakh is clearly a different settlement.
This is manifest when you visit and have to drive through a small forest (dotted with dachas and small holiday camps/sanatoria for locals, as well as across a scenic bridge over the Norilsk River).
Emerging 30 mins later into Talnakh, a place that is literally within naked-eye view of Norilsk but which tends to have a quite different climate and flavour of the air.
This is because the main industry here is mining and extraction from the ground.
While it is the smoke-belching massive industrial plants of Norilsk itself where the ore is processed and which pumps the poisoned air out over the city (if the wind blows against you that is).
Talnakh remains relatively unpolluted (by the standards of one of the worlds most polluted areas that is!)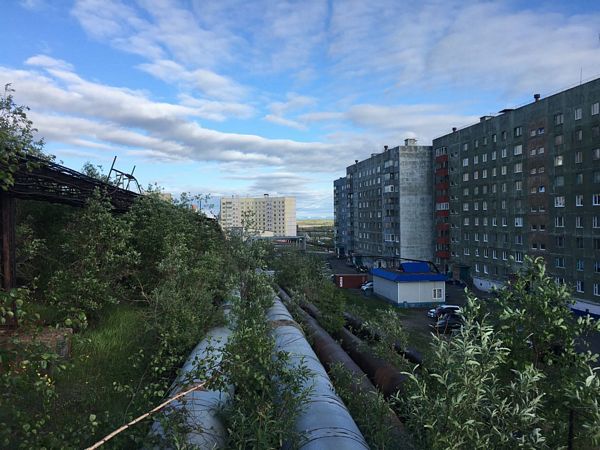 ---
What is a 'Closed City'?
The concept of a Closed City is something that seems anachronistic in this post-cold war day and age.
However, Russia still has dozens of such places.
Usually, cities and areas were initially closed (meaning access for foreigners was not permitted) because they were penal colonies, military sites, areas of key industry production, or of some other form of great sensitivity.
Many formerly closed cities are now wide open (for example Vladivostok, closed until 1991).
Norilsk and the other cities we visit on our tour in this area (Dudinka, Talnakh, Igarka) all remain with their status as Closed Cities intact.
However we do have a (legal!) way of getting there and we are more than happy to share this access with you!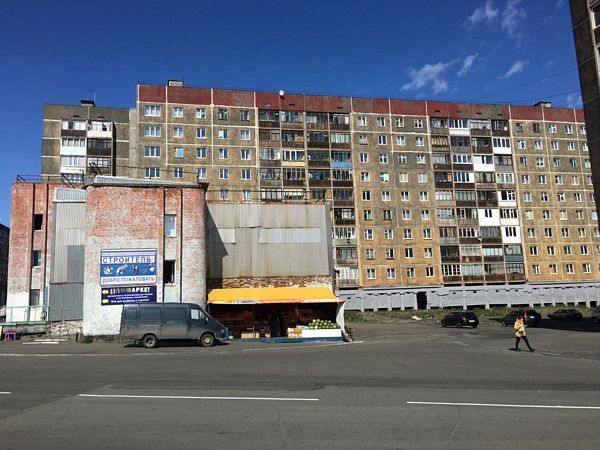 ---
What's the weather like?
As with its sister settlements of Norilsk and Dudinka the weather here is quite severe;
Nowhere does extremes better than Russia and the far north is very much a place of extremes so temperature and weather variations are quite drastic and dramatic.
But this is part of the experience in such a place, and something many locals are proud of being able to handle and go through seasonally.
Although in the deepest winter some crazy stories about 'black storms' come out of Norilsk!
---
How to get there
FLIGHT
The nearest airport to Talnakh is Alykel Airport, located between Norilsk and Dudinka.
A drive from the airport to Talnakh takes around 80 minutes.
Flights to and from here are domestic only and include service to Moscow, Novosibirsk, holiday areas in the Caucasus, and several other places.
As many mineworkers in Norilsk are well-remunerated it is common for people from there to travel domestically and internationally for holidays, so flights are often full.
Igarka is the other nearest airport, services to here currently are only from the regional capital of Krasnoyarsk.
BOAT
No boats arrive or depart Talnakh, the nearest port is in Dudinka.
See our Dudinka Travel Guide for more information on this.
CAR
Zero roads link Talnakh with the rest of Russia.
Residents call anywhere outside of this area "the mainland" for this very reason.
All cars are imported by ship.
If you are in Talnakh and have a car you can get to Norilsk, Dudinka, and other surrounding villages, but not into the mainland of Mother Russia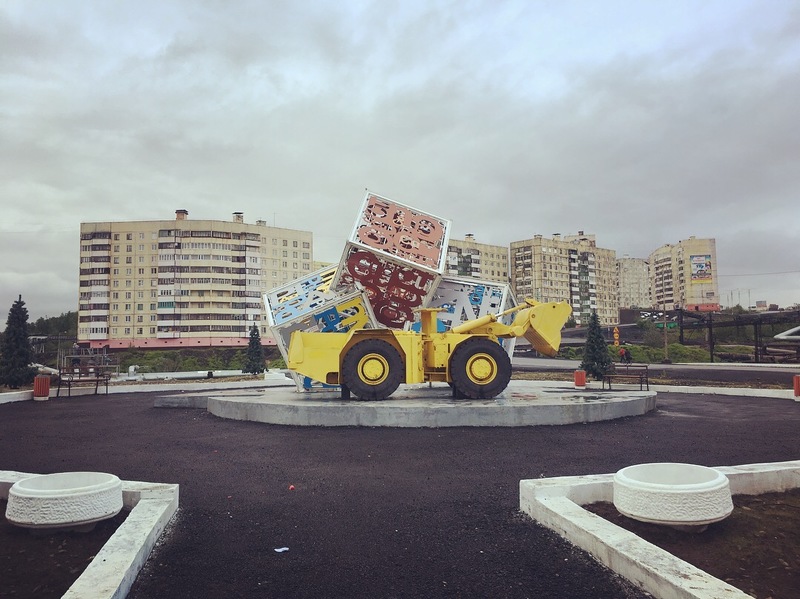 ---
What to do in Talnakh
There are a handful of mountain viewpoints in the area around Talnakh, if the sky is clear then get up to sone of them for a view over the landscape.
Much of the area directly around the town is made up of the large nickel mines, of various ages.
It isn't really permitted to visit them but you can get a drive around the outskirts and to see what they are like, great photos to be had in doing this too and we as stopping down by the riverside also.
Talnakh town is easily navigable on foot, but it is good to have a car to see the outskirts for sure.
Ski Resort!
Talnakh has one of the weirdest ski resorts in the world, a single run down a steep mountain.
The run comes to an abrupt halt (you have to know how to stop!), only open during winter and sadly the ski lift is only operational at that time too so summer visitors should go and have a look and imagine, much safer that way!
The hillside neighbourhood around the ski run is sardonically known as Rublovka by locals, after the fanciest part of Moscow, as it is where those with a few extra roubles to rub together in Talnakh tend to move to.
Norilskgeologiya Research Facility
Sounds sciency, but actually it is a massive abandoned and mostly asset-stripped area which makes for great Urb-Ex.
Used by locals for 'Stalker Games'
(not as sinister as it sounds, there are basically paintball with rubber pellets, 'Stalker' is from the Andrei Tarkovsky Movie of the Same name - the film version of the book 'Roadside Picnic' an amazing novel indeed)
While there are plenty of rusty nails and the occasional barking dog around to mean that you need to keep an eye on where you are.
This complex is well worth it for anyone who loves a bit of desolation and decay.
Wandering around & mixing with locals
Talnakh is set on a quite steep hill, so the view from the top part of town is over the rooftops of the row upon row of Soviet-era apartment buildings.
Across the forest, and then out to Norilsk itself, usually obscured by the smoke pouring out of the factory chimneys, it is like looking over a warzone sometimes, really stunning and evocative.
A walk down the hillside paths to the bottom of town is really interesting, passes all kinds of different shops, buildings, and so on.
From the bottom looking up it is a little bit dystopian at times as the buildings seem to grow out of each other.
A good way to get your daily steps in and explore this perfectly hospitable town.
If the climb up to the top of the town is too much then a local taxi will get you there for next to nothing.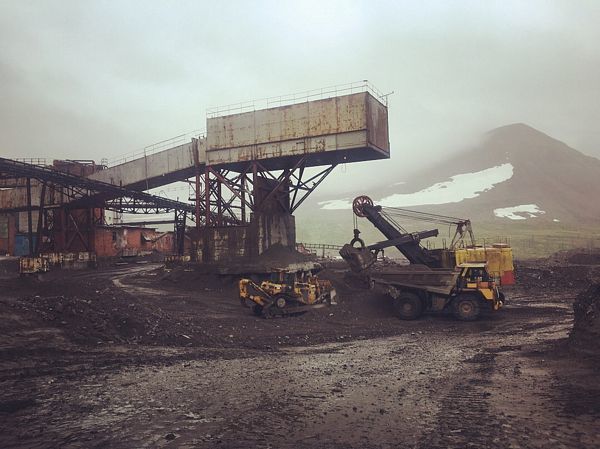 ---
Accommodation in Talnakh
There are a few guesthouses around but the best option is the Talnakh Hotel.
An unassuming looking place at the top of the hill.
Well-located near some shops and restaurants, equipped with a bar, billiards room, decent heating, working Wi-Fi, all mod-cons basically!
Most visitors will come to Talnakh just for the day but a night out is good fun and there are a handful of bars and restaurants (mostly in the lower town) to try, and why not spend the night too!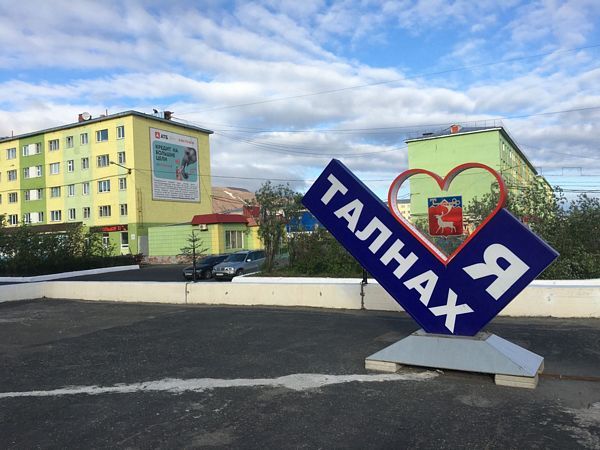 ---
---
Interested in a tour to Russia?


Travel to

Russia

with the
Russia travel experts, Koryo Tours
Russia Tours | Sign up to the mailing list | About Koryo Tours